The Creative Media & Digital Culture Program
"Learn. Think. Build." These three words encapsulate the spirit of The Creative Media & Digital Culture Program (CMDC) at Washington State University Vancouver. As one of five Signature Programs at WSUV, it integrates research and teaching in an intellectually-diverse, technologically innovative experience, applying inter-and transdisciplinary approaches that foster civic engagement from local-to-global contexts in the areas of Digital Humanities, media art, media communication, media studies, information systems.

We offer six specialties that include Game Studies & Design; Web & Mobile Design & Development; 2 & 3D Animation for Simulation & Visualization; Digital Publishing; Physical Computing; & Social Media / SEO.

Explore our website, and see why we are the fastest growing program on the WSUV campus.
Why choose the B.A. in Digital Technology & Culture at WSUV?
The CMDC Program is home to the DTC major at WSUV. Learn why you should pursue a major with us.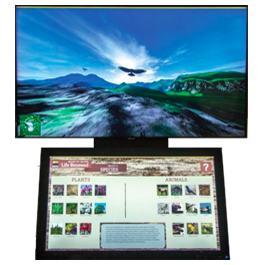 90% job placement rate following graduation with our degree

Check out our Career page on this website for more information.

Small classes with good access to instructors

Most of our courses offer a 24:1 ratio of students to faculty

Courses taught with top of the line, industry-standard equipment

Check out our Facilities & Resources page for more information
Video
Learn why CMDC Program is one of the five Signature Programs on the WSUV campus!