This is a story about the life
of one of the greatest quarterbacks
in history.
Peyton Manning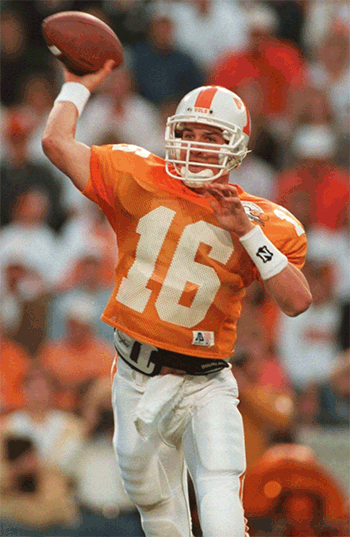 Part One:
Tennessee Volunteers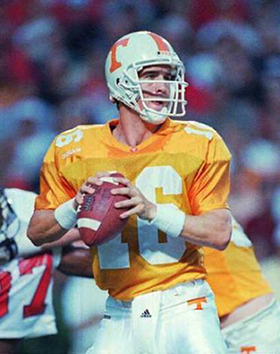 &nbsp Rookie Year - 1994
&nbsp &nbsp&nbspManning surprised the world when he chose Tennessee over his father's alma mater, University of Mississippi.
&nbsp &nbsp &nbsp As a freshman, Manning started as a third-string quarterback, but injuries to Todd Helton and Jerry Colquitt forced him to play in a loss against Mississippi State. His first starting game was the following week against WSU, where the Vols etched out a 10-9 victory. The Vols finished the season 8-4 and beat Virginia Tech 45-23 in the Gator Bowl.
&nbsp Sophomore Year - 1995
&nbsp &nbsp&nbspManning had an extremely successful sophomore year, going 8-1 and only losing to Florida.
&nbsp &nbsp&nbspThe Vols won against Ohio State in the Citrus Bowl, and finished the season ranked 3rd overall. Manning was 6th in Heisman Trophy voting.
&nbsp Junior Year - 1996
&nbsp &nbsp&nbspThe Vols opened the season as a favorite for the National Championship, only ranking behind Nebraska.
&nbsp &nbsp &nbspManning started the season well, commanding them to two straight wins before once again falling against Florida. They wound up once again playing and winning the Citrus Bowl, this time against Northwestern.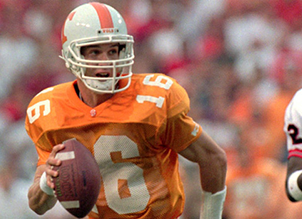 &nbsp Senior Year - 1997
&nbsp &nbsp&nbspDespite getting his degree in three years and being the projected top overall pick in the NFL draft, Manning decided to stay with the Vols for another year.
&nbsp &nbsp &nbspThe Vols found success against Texas Tech and UCLA before once again falling against the Florida Gators for Manning's third and final time. They finished 10-1 and advanced to the SEC Championship and beat Auburn in an unbelievable 30-29 comeback victory.
Part Two:
Indianapolis Colts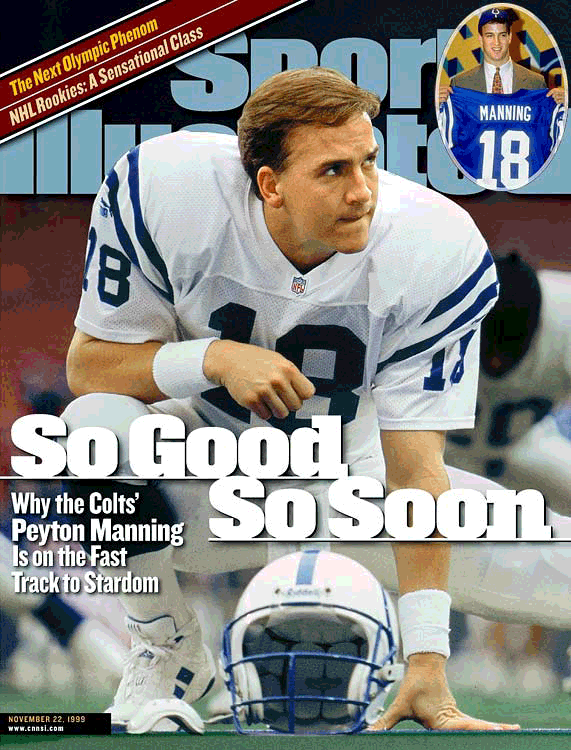 &nbsp &nbsp&nbsp Manning was selected first overall in the 1998 draft by the Indianapolis Colts.
&nbsp &nbsp &nbsp In his rookie year, he passed for 3,739 yards with 26 touchdowns, and broke five different rookie records including most touchdown passes in a season. Despite his positive numbers, the Colts still wound up with a 3-13 record due to their poor defense and Manning throwing a league-high 28 interceptions.
&nbsp &nbsp &nbsp Right out of the gates, his career looked bright, with many speculating him to be a Hall of Famer in the making.
&nbsp &nbsp&nbspWhile people think that player's second years tend to be their worst, Manning was a prime exception to that rule. He finished with over 4100 passing yards and 26 passing touchdowns, and made it to the Pro Bowl for the first time. The Colts made it to the playoffs and lost to the Super Bowl bound Titans.
&nbsp &nbsp &nbspTony Dungy would be named Head coach in 2002, where he and Manning drove the Colts to a successful 10-6 season. Manning finished with 4200 passing yards and 27 touchdowns, and made his second Pro Bowl team.
&nbsp &nbsp&nbsp In 2003, Manning won his first playoff game, beating the Denver Broncos 41-10 and earning a perfect passer rating, the fourth of his career. Manning went on to win the first Most Valuable Player award of his career.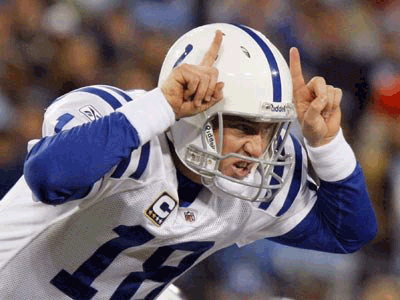 One of the Best
&nbsp &nbsp&nbspIn 2004, Manning broke the total touchdown passing record for the first time with 49, and ESPN voted his performance the second greatest passing performance in NFL history. The Colts finished the season 12-4 before again losing to the Patriots. Regardless, Manning won his second consecutive MVP award.
&nbsp &nbsp &nbspManning nearly won his third consecutive MVP in 2005, but came in 2nd to Shaun Alexander. The Colts lost to Pittsburgh in the playoffs.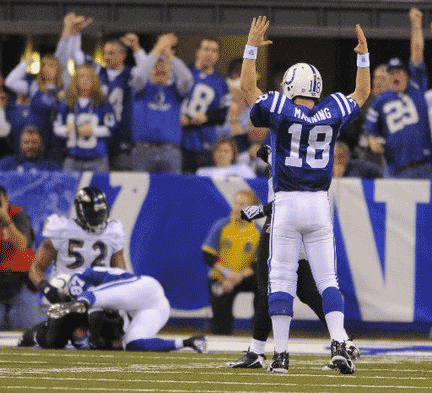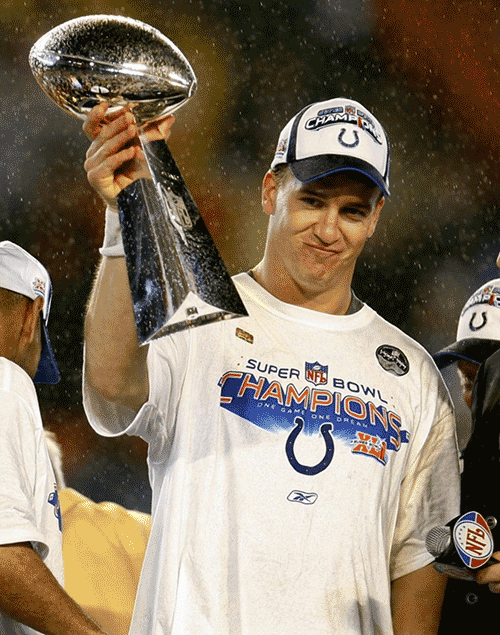 &nbsp &nbsp&nbspManning was held as Super Bowl MVP on his first appearance to the big game in 2006, when they beat the Chicago Bears on a rainy, Florida night.
&nbsp &nbsp &nbspManning would again visit the Super Bowl three years later, when they played the New Orleans Saints. While Manning took home his fourth career MVP title, he fell shrot of his second ring when the Colts lost to the Saints 31-17. He had an impressive 333 yards on 31/45 with 1 TD, but gave up a crucial interception on a last-minute drive for the win.
End of an Era
&nbsp &nbsp &nbspAfter another successful season in 2010, Manning had a serious neck injury that required extensive surgery. He had to sit out of the entire 2011 season, which the Colts failed so spectacularly that it allowed them the chance to draft the young future star, Andrew Luck, forcing Manning out of his position with the team. The Colts released him after the season was over on March 7, 2012.
Part Three:
Denver Broncos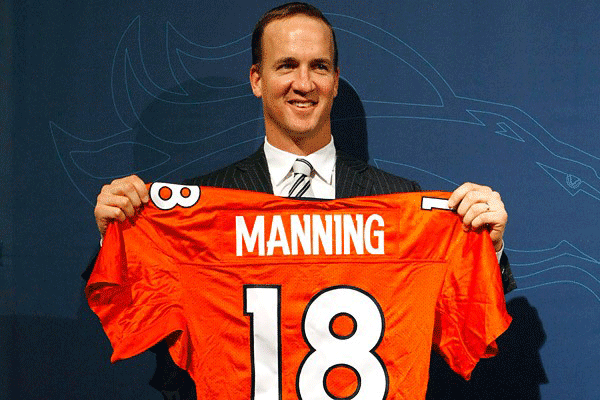 &nbsp Signed!
&nbsp &nbsp&nbspAfter visiting various teams, John Elway and Denver coach John Fox convinced Manning that the Broncos would be his best option. He signed with them on March 20, 2013, just two weeks after being released.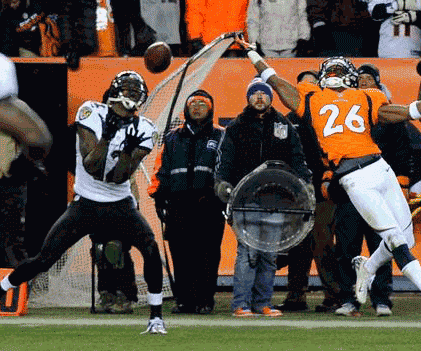 Face of the Broncos
&nbsp &nbsp&nbspManning wasted no time finding success with the Broncos. In his first year post-surgery, Manning achieved the NFL Comeback Player of the Year award and finished second in MVP voting. He finished the season in a playoff game against the Baltimore Ravens that went into double overtime. Baltimore went on to win the Super Bowl
The Greatest Offense Ever
&nbsp &nbsp&nbspIn 2012, Manning led the most potent offense in NFL history, and broke a myriad of records in the process. Manning himself shredded the record for most TD passes by throwing 55, as well as breaking the record for most yards thrown in a season with 5,477. He threw 450 completions, which tied for second most all-time. The Broncos scored an NFL record 606 points. They also broke the record for most 50 point games in a season, and four separate Broncos receivers recorded at least 10 touchdowns, a record that won't be touched for some time.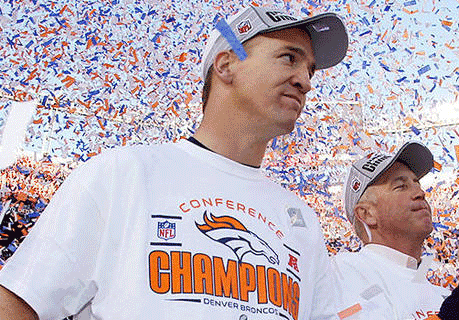 Unforgettable Season
&nbsp &nbsp&nbspManning's 2012 season wasn't just a statistical success, either. The Broncos won the AFC Conference with a regular season record 13-3, and then went on to become AFC Champions when they beat Manning's storied rivals the New England Patriots 26-16. All that was left was the Super Bowl...
2013-2014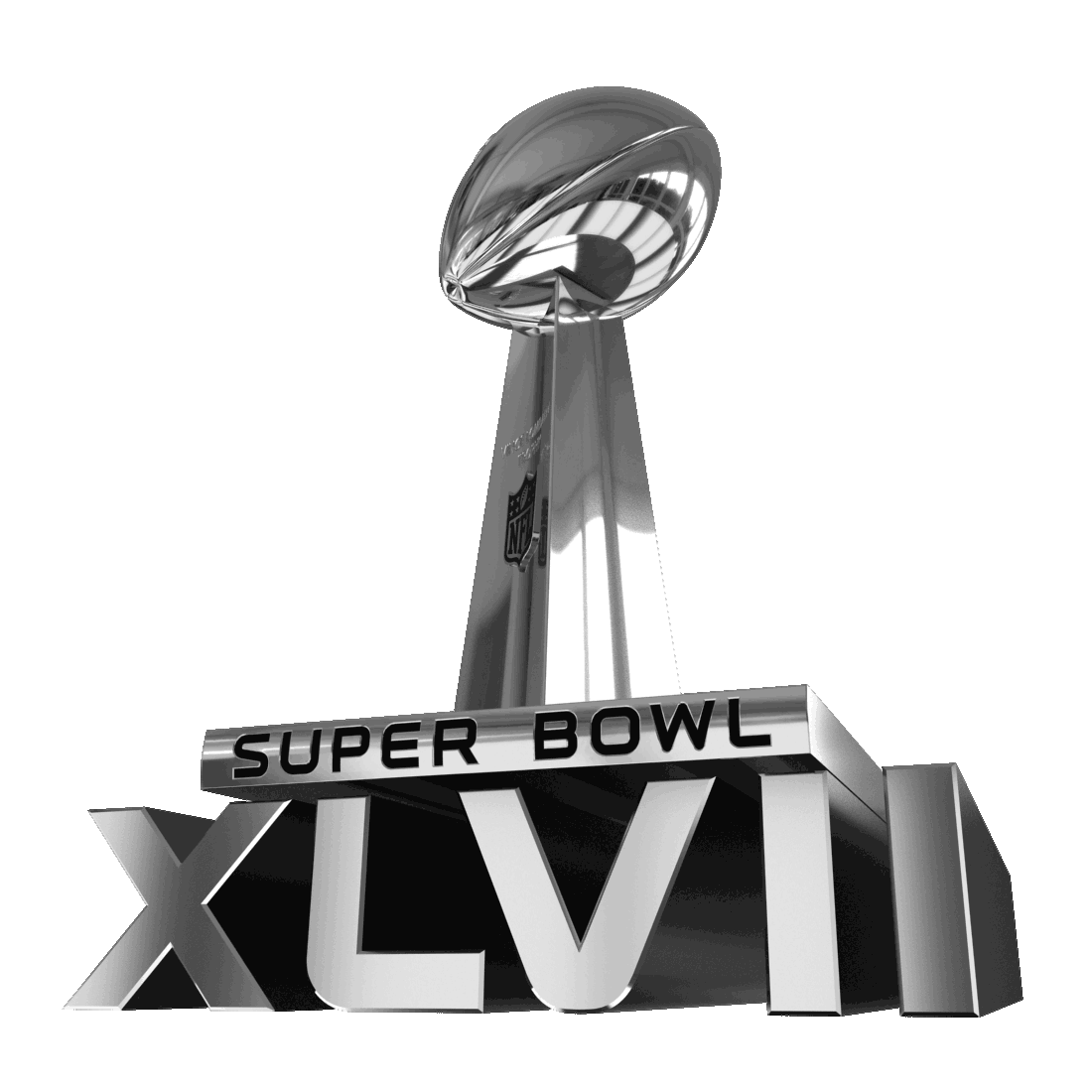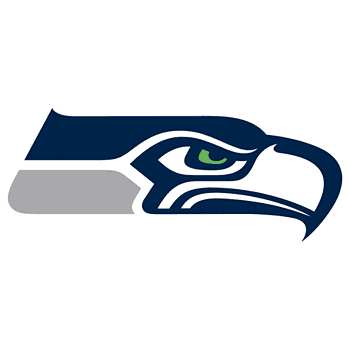 &nbsp&nbsp&nbsp&nbsp&nbsp &nbsp&nbspvs. &nbsp&nbsp&nbsp&nbsp&nbsp&nbsp &nbsp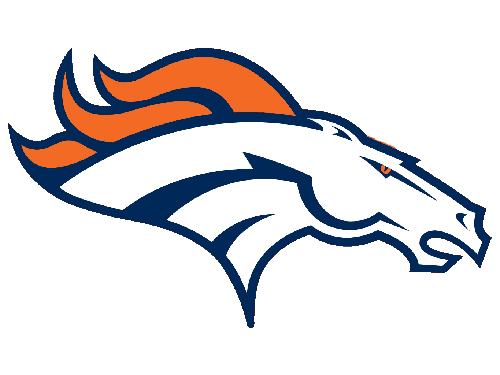 But let's not talk about it.
Onwards to 2014-2015!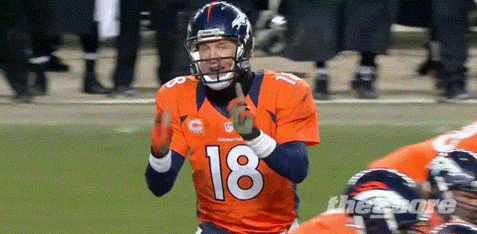 The end.
Go Broncos.
Made by Ricky Leitner
&nbsp Personal Production Statement
&nbsp &nbsp&nbspDespite being a computer nerd my whole life, I inherited my family's absolute devotion to Colorado sports teams. This was helped by fond childhood memories of the Denver Broncos and Colorado Avalanche being led to success by great leaders like John Elway and Joe Sakic. While the 2000s were a depression for Colorado sports, signing Peyton Manning completely revitalized the Broncos franchise and breathed new life into their hopes of becoming champions once again.
&nbsp &nbsp&nbspBuilding my site's narrative on the career of Manning had many benefits. For one, it's a theme that my family would enjoy reading about, so I kept them in mind as I made certain decisions throughout the process. Also, when discussing Manning's storied and lengthy career, a lack of content was far from being an issue. All of that aside, Manning has been a huge source of excitement in my life recently, so it was fun going more in-depth with his story and what makes him so great.
&nbsp &nbsp&nbsp Manning's career going from Tennessee's orange to the Colts' blue and concluding with Broncos' orange was too convenient to pass up, and made for an effective color scheme that transitioned well into one another. I picked fonts that were bold and would feel familiar to the football and collegiate brands. This was probably the most fun I've had with a project thus far, and I'm proud of the results.